A segunda edição da grande parceria da FAME Enterprises com a casa Blackmore Bar em Moema, São Paulo acontececrá na tarde de Sabado 29 de Novembro 2014.
As bandas confirmada para o Metal Roots de Novembro são:
19.15hs Hugin Munin (Death Metal)
18.30hs Andragonia (Prog Metal)
17.45hs Skinlepsy (Brutal Thrash Metal)
16.30hs Muqueta na Oreia (Metal)
16.00hs Abertura da Casa
Ingressos : R$ 20 antecipado R30 na hora
Info e vendas: www.famenterprises.com
Ou na loja do nosso blog: Webstore
http://famenterprises.com/new-home/METALROOTS29.11.14/index.html
www.ticketbrasil.com.br e nos seus puntos de vendas (vejaa site)
Classificação Etária: 16-17 anos acompanhados do responsável legal.
SOBRE AS BANDAS:
HUGIN MUNIN: Fight of Ravens, o último vídeo da banda, foi lançado no julho passado:
https://www.facebook.com/huginmuninofficial
ANDRAGONIA:
O vídeo para By Your Side foi lançado no começo de Setembro 2014 e está dispoonível no Youtube:
https://www.facebook.com/andragonia
SKINLEPSY: O álbum Condemning The Empty Souls está disponível na sua interidade no Youtube: 
www.metalmedia.com.br/skinlepsy
www.reverbnation.com/skinlepsy 
MUQUETA NA OREIA: O último vídeo Hardware, Software and Tapperware foi lançado recentemente e está disponível no canal Youtube
www.youtube.com/muquetanaoreia
Edição de Novembro do Metal Roots Fest!
5 grande bandas do underground nacional! R$20 anticipado e R$30 na hora! veja nosso site oficial www.famenterprises.com e não esqueça de votar pra sua banda favorida!
Já confirmados Andragonia, Hugin Munin e Skinlepsy!  
Comunicado sobre os ingressos do Toxic Holocaust no Rio de Janeiro e São Paulo:
as vendas pelos sites www.famenterprises.com e www.ticketbrasil.com.br e os seus pontos autorizados acabarão nas seguintes datas:
08/10/2014 Ultimo dia para comprar ingressos antecipados do show no Rio de Janeiro.
11/10/2014 Ultimo dia para comprar ingressos antecipados do show São Paulo.
Terá venda de ingressos na hora de ambos shows.
Atenção: bebidas alcóolicas estarão a venda em ambos shows para os maiores de idade.
APRESENTAÇÃO DE RG OU DOCUMENTO COM FOTO NECESSÁRIO PARA GARANTIR A SUA ENTRADA.
METAL ROOTS DAY FEST - MUDANÇA DE CASA!! O festival vai ser no Blackmore Rock Bar GALERA.
Abertura 15hs Censura 16 anos acompanhados!
CIRCLE OF INFINITY is almost ready to publish their debut album MOMENTS OF EVIL.
The band formerly known as Massacre (BR) will launch the CD in São Paulo on October 5th at the METAL ROOTS DAY FEST.
Here's the first sound to be released showing the ART COVER:
Artist: Necromesis
Line Up: Daniel Curtolo (guitar), Gil Oliveira (drums), Gustavo Marabiza (bass) Mayara Puertas (vocal)
Necormesis is a death metal quartet from Brazil about to release their new full length album.
The guys have been around since 2006; in the last few years they had the great addition of Mayara Puerta on vocals, which really took the band to the next level. Last Sunday Necromesis launched their video for Indifferent Echoes of Sensitivity, taken from their current EP ECHOES OF A MEMORY.
Here's the video:
The gig at Inferno started with Memories, the melancholic guitar intro of their latest EP, the band then introduced their new video. With their cranked up gear fully on, they entered full force for a 30 minutes set, captivating the crowd with every single note. The band has an incredible stage presence, with a rich dark sound accompanied by fast rhythms and great deep growls. Mayara Puerta's voice simply rips through everything in her path. The public head banging and doing circle pits all over the place, truly enjoying the raw power of Necromesis. It's a sight not to be missed! Can't wait for the album to be released early in 2015 (TBC), watch this space!
Setlist:
The Dark Works of art (Demo 2009)
The life is dead (EP 2014)
Unlives as undeads (EP 2011)
Demonic Source (Demo 2009
Condemned By Themselves (inédita – full album 2015)
Indiferent Echoes of Sensitivity (EP 2014)
After a long 35 years wait, Kate Bush finally returned on stage last night at the Hammersmith Apollo in London.
To the lucky ones who got a ticket, I do envy you so very much!
Seeing some footage of the show Kate voice is still unpeccable, her presence warmly embrace the audience who is completely mesmerized by the artist. Here's a short video of the final song:
The public enjoyed a strong setlist for the first night of the 22 London gigs, with no less than 24 songs from Kate Bush's repertoir:
Lily
Hounds of Love
Joanni
Running Up That Hill
Top of the City
King of the Mountain
And Dream of Sheep
Under Ice
Waking the Witch
Watching You Without Me
Jig of Life
Hello Earth
The Morning Fog
Prelude
Prologue
An Architect's Dream
The Painter's Link
Sunset
Aerial Tal
Somewhere in Between
Nocturn
Aerial
Among Angels
Cloudbusting
Will someone please force me not to buy a very expensive intercontinental flight to try go and see her. Damn.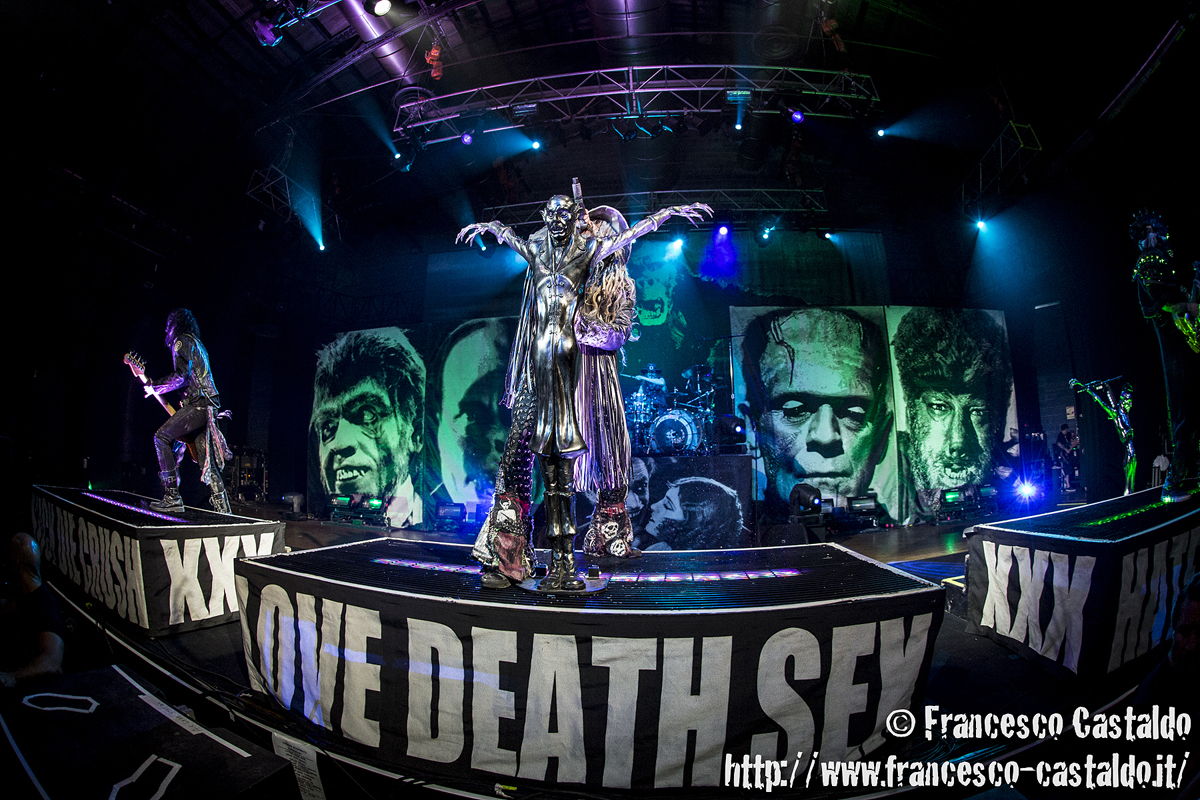 City Sound – ALCATRAZ MILAN 27.06.14
I arrive at Alcatraz just in time to get a beer, as I was not aware of the change of venue, and I unfortunately missed both opening acts Deathless (Italian veterans) and Powerman 5000 (better known as Rob Zombie's very yellow haired brother).
Rob Zombie is left in charge of headlining solo the warm Italian summer night, following the unfortunate passing of Megadeth's bassist David Ellefson's brother which forced the band to cancel some of their European dates, including both the Milan and Rome gigs.
Sadly, the room is filled with just over a thousand people, as the promoter only offered a full refund rather than lowering the ticket's price (a very high 46 Euros). However, some of Zombie die hard fans made it to Milan to help animating the horror show, following the full cancellation of the Roman concert.
The lights go out and Zombie immediately gets it on full force with Teenage Nosferatu Pussy. The crowd screams and the party starts. The band is truly tight with John 5 and Ginger Fish being some of the finest musicians around and reminding us why Marilyn Manson used to be the best act back in its days.
The stage scenery is stripped down to the basic, with backdrops of classical monsters such as Frankenstein and some impressive mic stands of crucified men. No screens projecting Zombie's videos, nor sinister robot-figures walking around, which I thought a bit diminutive of the usual set up as that gives a whole different experience.
The set-list continues with all times favourites Living Dead Girls, Dead City Radio, Meet The Creeper, some White Zombie songs and a couple of covers including Enter Sandman (real great performance on the vocals here).
As always Rob takes a stroll through the venue and I find the man right in front of me with his search lamp – yes, he really does look like a Zombie. The highlight of the night came right after John 5's solo (do check out his personal albums), when the Italian metal queen Cristina Scabbia (Lacuna Coil) joins in for a cover of Am I Evil? (Diamond Head). Crowd pleaser Cristina animates the fans and brings the show to a pause before its first encore.
Am I Evil Feat Cristina Scabbia
The band comes back on stage playing Ging Gang Gong and Dragula, the venue filled with chanting and horns up, and I spot John 5 giving his green mouth flash-light as a little present to a fan in a wheelchair. Fine fella that is.
It's time for the last song of the evening, the cult 6 arms skeleton mic stand is brought out and Zombie starts singing We Are An American Band sporting an Italian flag in his hands, with a crowd fully pleased and not having missed Megadeath at all. A quality Rock'n'Roll show from start to finish.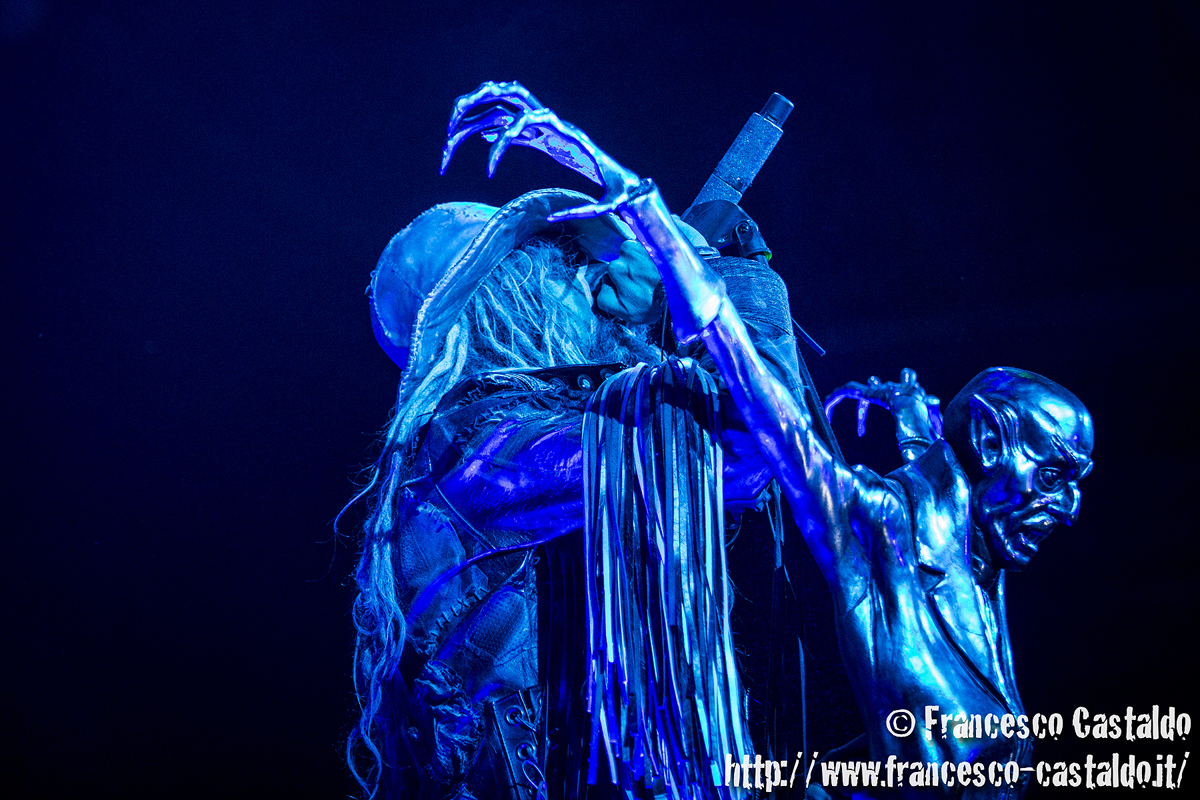 Opening Act – Deathless and Powerman 5000
Setlist
Teenage Nosferatu Pussy
Superbeast
Living Dead Girl
Dead City Radio and The New Gods of Supertown
Drum Solo (Ginger Fish)
More Human Than Human (White Zombie)
Sick Bubble-Gum
House of 1000 Corpses
Meet The Creeper
Never Gonna Stop (The Red, Red Kroovy)
Enter Sandman (Metallica)
Thunder Kiss '65 (White Zombie)
Guitar Solo (John 5)
Am I Evil (Diamond Head – feat Cristina Scabbia)
Thunder Kiss '65 (Reprise)
Encore
16. Ging Gang Gong De Do …
17. Dragula
Encore 2
18. We're an American Band
Images - Francesco Castaldo - www.francesco-castaldo.it and love-it-loud.com
EXCURSAO PARA O SHOW DO CORONER COM VULCANO E DISTRAUGHT PARA O WWW.MUNDOCULTURA.COM.BR